Happy Hump Day! I'm happy to be one more day closer to the weekend, as I cherish my personal time to recharge and do as I please.
I have made a few successive purchases over the past month or so from various shops that have resulted in a decent haul; I thought I would share a quick look at those products as I continue to test them out!
From rear to front, left to right:
theBalm's In theBalm of Your Hand palette (ModCloth); Nars Radiant Creamy Concealer in Caramel (Sephora), MAC's Dej Loaf lipglass (online exclusive - MAC Cosmetics), MAC's So Select (exclusive to MAC Select members) and Cosmo lipsticks (both from MAC Cosmetics), BeautyBlender beauty.blusher (Sephora);
Tom Ford Beauty's eye color duo in Ripe Plum (CCO), MAC's lipliners in Plum and Spice (MAC Cosmetics), Urban Decay's Brow Beater brow pencil in Neutral Brown (Sephora), Too Faced Peanut Butter palette (Ulta), Sephora Collection's Solid Sponge & Brush Cleaner (Sephora)
bareMinerals Divine Decadence 8-pc Spring Set (QVC)
top to bottom, left to right:
Absolute Indulgence Blush in Ginger Spice, Baseline Silky Cream Eyeliner in Rich Black;
Diamond Light Mineral Veil Finishing Power, Shadow Quickie Cream Eyeshadow in Topaz, Marvelous Moxie Lipgloss in Big Tease, Lash Domination Volumizing Mascara Petite Precision Brush in Intense Black, Smoky Smudger Brush, Feather Light Brush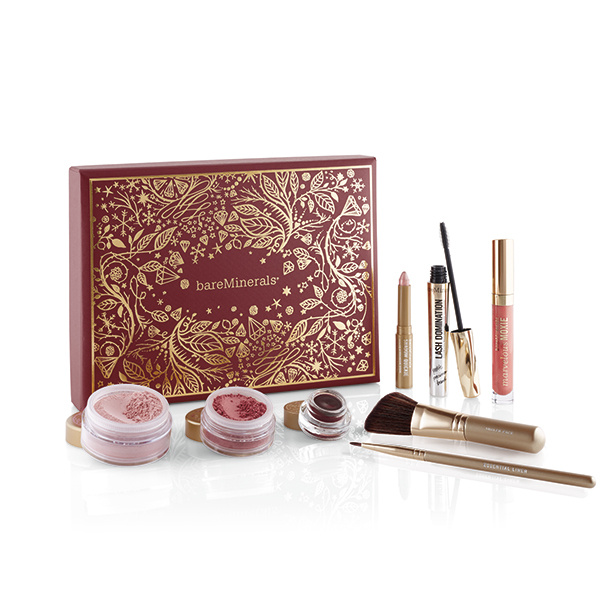 Stock photo from QVC: Sorry I forgot to take the lids off of some products so you could see them better!
These are some sample-sized products I managed to snag with some of the above purchases.
Top to bottom, left to right:
Clinique High Impact mascara, MAC False Lashes Mascara, MAC Prep & Prime Skin, Too Faced Better Than Sex Mascara, Urban Decay Sheer Revolution Lipstick in Liar (full-sized, forget to include in earlier pic), Clinique lipstick in Matte Magenta (full-sized, got as a bonus for counter purchase), Marc Jacobs Le Marc Lip Creme Lipstick in Kiss Kiss Bang Bang, Marc Jacobs Highliner Gel Eye Crayon liner in Blacquer;
Clinique mini shadows (Mink, Seashell) & blush (Smoldering Plum), Too Faced Love Flush blush in Love Hangover, Too Faced Hangover Replenishing Face Primer
That's all for now. That's enough, right? I think I am good for at least a little while. I will you keep you posted on how some of these work out...a few may end up on my list of favorites!